Posted by Accent Amenities on 6th Feb 2018
We often tell our customers that Makeup Remover Wipes are one of the most important bathroom toiletry purchases you can make. Not only will your guests love the convenience and feel of the wipes, but you will also love the money you'll save on towel cleaning and replacement linens. Our Spa Scents Makeup Remover Wipes remove more than just makeup – they remove spent money from your budget!
Sometimes it's best to let our customers (and some of their guests) do the talking. We have many rave reviews on our Makeup Remover Wipes. Here are a few of our favorites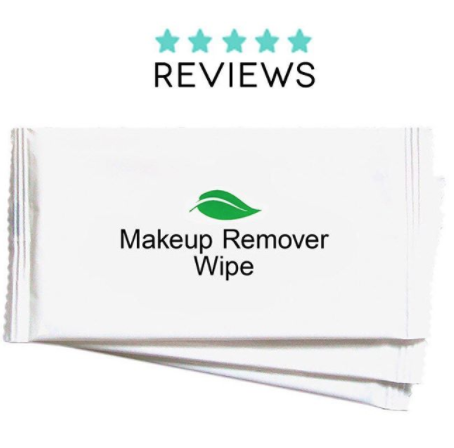 "A wonderful surprise! I tried this product when I found myself in a lovely holiday cottage at the Fredericksburg Herb Farm for just one night and realized my little travel bottle of eye makeup remover was EMPTY, bone dry. And I'm talking waterproof mascara here. I used this towelette on my face, did wonderful job on my tinted sunscreen and powder, and then tried it on my eye makeup. Success! All done in one quick, simple step. When I arrived back home I tracked this product down and bought a box of 100."-Barbara
"The Inn at Elk River in Banner Elk, NC has been using these products for years. The pricing is reasonable & we are very pleased with the quality & favorable impression the products generate from our guests." –John
"In an attempt to reduce makeup stained wash cloths, I decided to add Makeup Remover Wipes to the amenities I offer. They make a nice presentation with my other amenities and have resulted in less damaged wash cloths and towels." –Robin
"We love this product! The wipes are so soft we offer them to our patients as a complimentary amenity in the bathroom and they love them! Thank you for the fast shipping and quality!" –Taylor
"I used these makeup wipes at a Best Western in Pueblo, CO and absolutely loved them. I ordered a small pack for personal use. Highly recommend."
The choice is clear. Stop buying and replacing expensive bathroom linens and start saving money with Makeup Remover Wipes. Your guests will love the convenience and effectiveness. Accent Amenities is a leading supplier of Makeup Remover Wipes and we offer wholesale pricing for properties that need larger quantities. Let us know if we can answer any questions or help you with your order. Now is the time to rethink your amenity budget and try Makeup Remover Wipes.
We love hearing from our customers and their guests! Did you know you can leave us reviews, and also read them, on our website? On each product page, scroll down to the bottom of the page. We'd also love to hear from you on Facebook or Instagram.